Regular price
Sale price
$3.00 USD
Unit price
per
Sale
Sold out
WAIT! Before you buy!
Did you know this introduction to my Immortal Sorceress series is available to my newsletter subscribers absolutely free?

If you're already signed up, the link will be delivered directly to you inbox.
Want to get your copy? Click here!
EBOOK & AUDIOBOOK VERSIONS WILL BE DELIVERED VIA EMAIL BY BOOKFUNNEL.
Immortality has its perks. Dealing with vampires is not one of them.

After nine hundred years protecting the balance between magical and mundane, I do my best to avoid squabbles among the fanged variety.
They're overdramatic, dress better than I do, and never have simple problems.
My oldest friend included.
But when Adrian asks me, his favourite sorceress, to do him a favour and help find a missing vampire queen, what can I do but say yes? Especially when my sort-of protegée has a vision about all the ways the city will go sideways if we don't get her back on her throne.
The missing person's case quickly turns into a free-for-all as a horde of rogue human thralls decide I would better serve the vampires as a corpse. Who's giving them orders? Because it certainly isn't the missing queen. Not helping matters is my ex-lover, a servant of Death who refuses to stay where he's supposed to: in my past.
With the city on the brink of war, the vampire nest on the edge of collapse, and my suitcase at serious risk of running empty before this problem is resolved, I have to put all the missing pieces together before it's too late.
Oh yeah. Adrian owes me big time.
Step into the captivating Immortal Sorceress series, urban fantasy packed with action, complicated relationships, and a growing found family. Fury of the Sorceress takes place between books 1 and 2, but can be read at any point and is a great intro into the series.
Share
View full details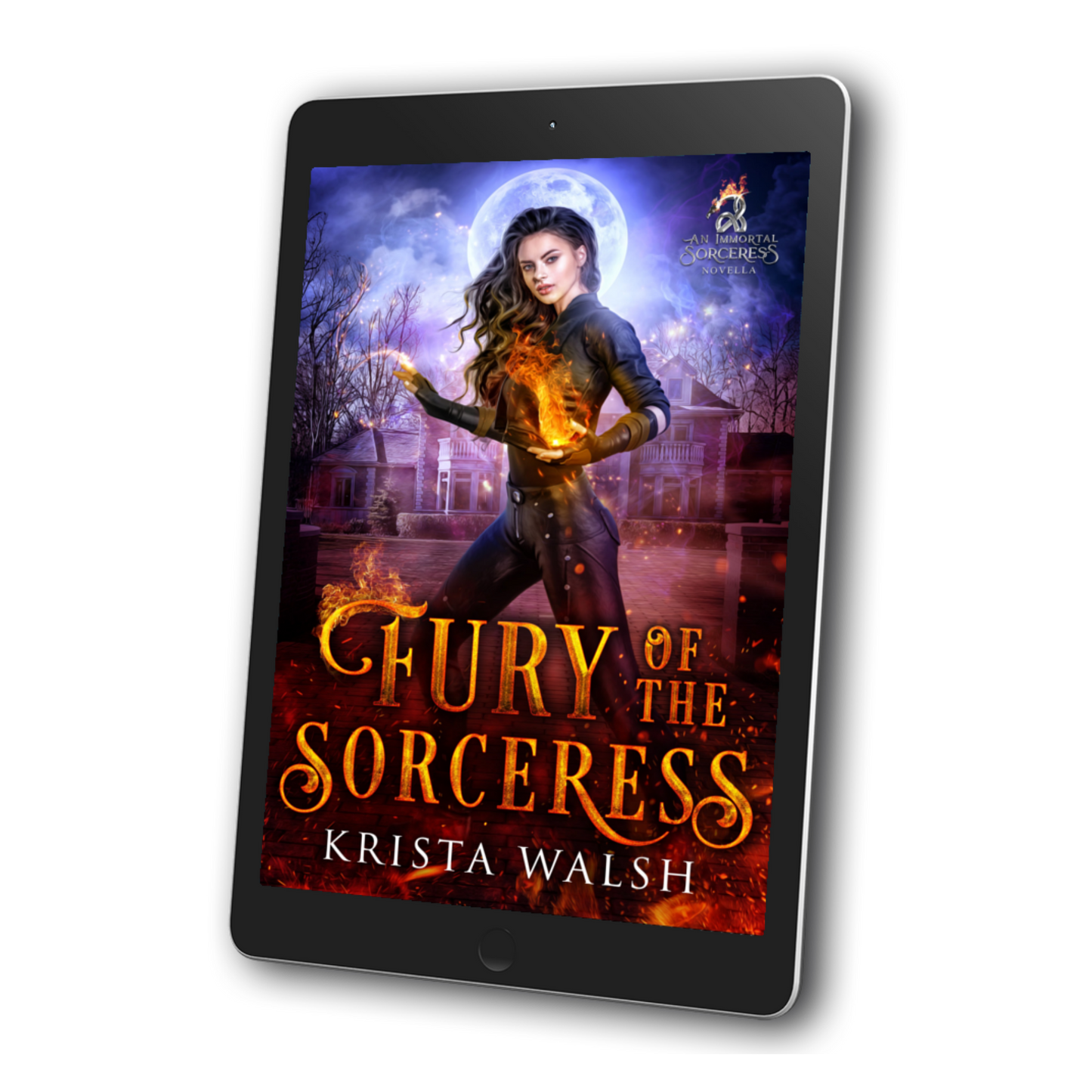 Brilliant 👏
I absolutely loved this book! I couldn't put it down, from start to finish! Fast-paced immortal fun. I'm all onboard and dying for more! Brilliant urban fantasy, I thoroughly recommend it!
Loved it.
This is such a great introduction to Krista Walsh's new series. This is the first book I read by this author and I absolutely adored it.
Within merely 100 pages, Krista managed to not only establish the main cast of characters and the dynamics between them but also tell a satisfying story.
This books sets up a second chance romance between Kat and Emrick. I am incredibly curious about Kat and Emrick's respective backgrounds and shared history. I can't wait to follow them on their journey and rejoice when they finally get together.
I can't wait for the follow up books. I am I-N-V-E-S-T-E-D.
Fun read
I enjoyed this story. Has magic, vampires, and a mystery to solve....What happened to the Vampire Queen. It was a quick read with some action, danger and made me laugh. Good story and good characters to enjoy. And enough to tease me about the main character to keep reading to see what is going on and want to find out more about her and her friends introduced here.
Fury of the Sorceress
Fury of the Sorceress is a delightful, magical journey. Sorceress's, vampires, seers, and more! Krista Walsh delivers deep and intriguing characters involved in a fascinating plot. Trouble in the vampire world? Call in Katrina to help. Action, adventure, strife, and conflict. And did I mention vampires! What could be better?
I received a free copy and leave my voluntary review.
Amazing and Exciting
I loved reading Fury of the Sorceress and enjoyed meeting the characters in it. They were fun and exciting to meet.
Katerina or Kat to her friends is a unique Sorceress; she has powers that do run down when she uses them but with food, nourishment and sleep her powers build up. Kat gets a call when things go south with Vampire faction or nest.
Adriane is one of Kat's best friend who is a Vampire that has known her for many years. He helps Kat with many of her battles.
There is a a young man who is her house keepers son that has gifted powers of sight into the future, he is called a Seer.
This short Story (Novella) is the first book in the series An Immortal Sorceress. I can't wait to read the rest of this series.
If you love Vampires, Magic, Excitement and the thrills of a good battle then this book is for you.